Meet the Young Farmers & Ranchers Committee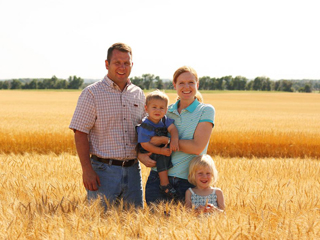 District 1
Spencer and Rachel Bina
Co-chairs of the YF&R Committee
Two children: Natalie and Jack
Park River, N.D.
Spencer and Rachel Bina farm near Park River and raise wheat, barley, canola, soybeans, edible beans, corn and sunflowers. Rachel is an American Farm Bureau Federation PAL participant and was an AFBF Discussion Meet winner. She is also a member of the Walsh County Farm Bureau Board. They represent young farmers and ranchers in Cavalier, Pembina, Walsh, Nelson and Grand Forks counties. Rachel says that Farm Bureau always supported her youth activities in FFA and 4-H. "My lifelong passion for farming has kept me involved in leadership opportunities."

District 2
Mark and Bridget Belter
Two children
Fargo, N.D.
Mark and Bridget live in Fargo, but farm near Leonard. They represent young farmers and ranchers in Griggs, Steele, Trail, Barnes and Cass counties.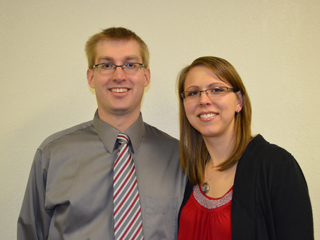 District 3
Travis and Dana Dagman
Two children: Charlie and Levi
Enderlin, N.D.
Travis and Dana Dagman farm corn, soybeans, and wheat west of Enderlin. In the winter they can be found working at the local tax office. Travis is on the Ransom County Farm Bureau board and serves as township treasurer. Dana is the coordinator of the area MOPS (Mothers of Preschoolers) group located at First Lutheran Church in Enderlin. Both are NDSU graduates.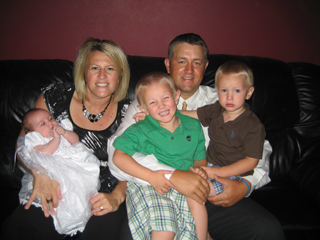 District 4
Jon and Cindy Brown
Three children: Drew, Casey and Reagan
Crary, N.D.
Jon and Cindy live on a farm near Devils Lake. Jon graduated from Mayville State University with a Bachelor's Degree in Business Administration. He has been farming and ranching in the Devils Lake Region for 15 years. He raises Black Angus and Hereford cattle and farms corn, soybeans, peas, and wheat.
Cindy graduated from Valley City State University with a double major in Business Administration and Business Education and from North Dakota State University with her Master's Degree in Educational Leadership. Cindy is the Health IT Program Director at Lake Region State College in Devils Lake.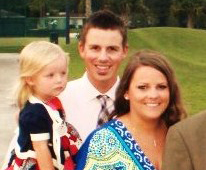 District 5
Levi and Brianna Taylor
One child
Jamestown, N.D.
Levi and Brianna, along with their daughter Jovi, live on a farm southeast of Jamestown. They grow corn and soybeans. They enjoy being outside as a family, gardening, biking and being at the lake. They are involved with their local church and enjoy the opportunityt share what they do on their farm with others. "We take pride in being a food and energy producer for the world."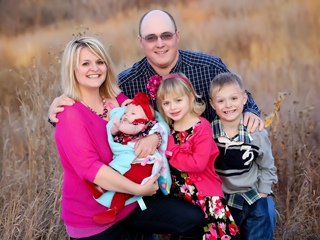 District 6
Nathan and Katie Fegley
Three children: Clay, Claire and Laila
Berthold, N.D.
Nathan and Katie both graduated from NDSU. Nathan farms small grains and operates a cow calf operation. He also owns and operates Fegley Grain Cleaning. Nathan was elected to the Berthold City council in 2012 and enjoys being in charge of the Planning and Zoning commitee for the city. Katie is a Crop Insurance Specialist for Farm Credit Services in Minot. She is also on the Kids Academy board in Berthold. Nathan is a director for the Ward County Farm Bureau and was President of the NDSU Collegiate Farm Bureau in 2003-2004. "Farm Bureau has given us many great opportunities in leadership and service to the producers that make up the North Dakota Farm Bureau membership and we look forward to representing them from District 6."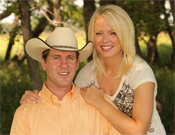 District 7
Kristopher and KaSondra Staiger
Two children
Hebron, N.D.
Kristopher and KaSondra ranch near Hebron. Kris graduated from NDSU in 2005 with a degree in Animal & Range Science and from Moorhead State in 2009 with a degree in Fire Science.
KaSondra graduated from NDSU in 2009 with a degree in Animal Science and Equine Studies.
They married in June of 2010 and currently reside north of Bismarck near Baldwin. The couple recently purchased land that Kris had been renting for several years and sell alfalfa to local dairy farms. They started a commerical black angus heifer development program recently and are looking to expand into a commerical cow-calf operation in the near future.
Kris works as a full-time firefighter for the Bismarck Fire Department and KaSondra is a Burleigh County Agriculture and Natural Resources Extension Agent.


District 8
Currently vacant

District 9
Chris "Cheech" Holznagel
Dickinson, N.D.
Chris has farmed and ranched his entire life, and also currently works in the oil fields. Has an Angus cow/calf operation and raises some seedstock Angus cattle. He grows primarily alfalfa, wheat and corn.