photo courtesy of Pixabay
by Elizabeth Magee, LRD
It's a day for all the love. And I love that. How ever you're acknowledging this day (or not) I hope it's a great day for you and you are loving and being loved. My plans are still undetermined, but I'm always very appreciative of a thoughtful gift. (Hi Nick!)
But here are some things I'm NOT going to enjoy and hope I don't receive on Valentine's Day. I will credit TikTok for my special list.
Healthy Coke – balsamic vinegar mixed with your favorite sparkling water. Now I can see how this potentially could look like Coke. I think that's where the similarities would end. I haven't tried this (and don't plan on it) but it sounds terrible. I enjoy sparkling water. And I enjoy balsamic vinegar on my food. There is just no way that you'll convince me this tastes like Coke. It may be a better choice than Coke, if you're cutting back on sugar or just looking for a new drink. But this still isn't offering any health benefits. I'm just going to say if you want a Coke, this probably isn't gonna cut the cheddar for ya.

What I can recommend is the TikTok trend of adding cream (vanilla coffee creamer) to your pop. It sounds terrible but I have tried this, thanks to spending the past 4 weekends traveling with teenagers. It's actually yummy! 😊

Lettuce Water – apparently this is pouring boiling water over romaine lettuce, letting it soak and then drinking the water. Somehow this will help you sleep. Sounds more like a waste of lettuce. I thinkyou are far better off just eating the lettuce and focusing on other habits to help you sleep like cut caffeine earlier in the day, lay off fatty and spicy foods, and turn your phone off!
Cloud Bread – "TikTok's dreamiest, fluffiest food" I will admit, it looks good. I've never tried this one either. It started with the darn Keto Diet and people wanted something like bread to eat. It's pretty and kind of looks like angel food cake and cotton candy. It consists of egg whites, cornstarch and sugar (sometimes vanilla essence is added).
Are any of these bad for you or dangerous? Nope!! So if you like them, don't let me ick your yum. You do you!! I just know I'll be sticking to (Diet) Coke, eating lettuce in my salads and regular bread – that's out of complete laziness though. If someone made me cloud bread, I'd try it for sure!
For Valentine's Day, I'm just looking for chips, salsa, maybe a margarita and a good snuggle!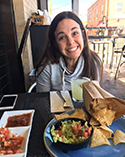 Elizabeth Magee is a licensed registered dietitian. Her posts appear monthly on OYT.
Other popular posts from Elizabeth:
Have you heard about the food order diet?
---