Image by Szabolcs Molnar from Pixabay
By Elizabeth Magee, RD, LRD
Weekends on the road are exhausting. Traveling in general is exhausting, especially when you throw in the unpredictability of winter weather. My inability to plan ahead, pack like a normal human, and fear of being hungry make things even trickier.
Current example: State swimming and diving this past weekend in Bismarck. Diving was scheduled to start at 12:30 on Friday. The weather was also predicted to be bad on Friday morning from Fargo to Bismarck. I chose to ignore weather and road reports because I really like sleeping in my own bed and two nights away from home just sounded like too much. And come on, the weather is wrong most of the time, anyway.
Turns out, the weather was right and traveling was less than desirable Friday morning. I slowly (too slowly if you ask my husband) followed him from Fargo to Bismarck in stress-inducing weather. But we made it!
I'll spare you the details of my inability to pack (I thought four hoodies were necessary for one night away from home).
But, the hunger. Snacking. Driving. Messed up schedules. What if I'm hungry and there's nothing I want at the concession stand? How can I make decent choices when options are super limited? No one wants to deal with me when I'm hungry. Packing food is always a must for me. I've gotten really good at making decent choices at gas stations too.
I ALWAYS have a box of Triscuits with me. ALWAYS. Or a baggie of them. I love them. They're so satisfying. My other staple on the road is beef jerky. It helps keep the hunger at bay and again, salty, so I'm in. Popcorn is another snack I'll pack if I can, and string cheese depending on how long I'll be able to keep it cold. Raspberries and apples if I have them on had seem to travel well too.
But what to do at a concession stand where you just can't find anything you want to eat? I'd eat the nachos, but it wouldn't keep me full and if I'm having nachos I want the works, not just processed cheese. I want it all! They had pulled pork sandwiches, but it just seemed like a messy option to eat in the bleachers. There was a shake shop in the event center, which would be a perfect time to have one of those shakes that I don't love but seem to satisfy my hunger in a pinch.
Thankfully this weekend, my snacks kept me occupied. And the timing of breaks between swimming and diving allowed me to leave and grab lunch from places we don't have in Fargo. Very exciting.
When I eat better, and how I typically eat, I feel better mentally and physically. I try to keep the norms with me so when the hunger strikes, I'm ready!! As bad as I am at planning basically anything else in life, I have my snack game together. When it comes to food and sweatshirts, there's no messing around for me.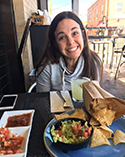 Elizabeth Magee is a licensed registered dietitian. Her posts appear monthly on OYT.
Other popular posts from Elizabeth:
---