Give the next generation a chance to continue strengthening and promoting agriculture in North Dakota. By donating to the NDFB Foundation, you are helping to ensure that our rich heritage and rewarding lifestyle continue.
With your donation or legacy gift, you are helping provide hope for the future of farming and ranching in our state.
We fund youth scholarships, research to benefit North Dakota agriculture, and programs like Living Ag Classroom and Special Assignment Pizza which teach students about farming and ranching and where their food comes from.
Watch as Jarrett Lardy explains how the NDFB Foundation is helping him reach his dreams:
Watch as Heather Lang explains how the NDFB Foundation supports Living Ag Classroom
The Foundation also supports educator workshops and provides materials such as information on agricultural practices, environmental awareness and economics.
---
Individual sponsors
The Foundation has three levels of giving for individuals:
Harvester: $250 and above
Cultivator: $51-249
Planter: $50 and under
Corporate sponsors
The Foundation also offers a corporate sponsorship for businesses to support NDFB's education and research. Sponsors will be acknowledged at events, on this page, in related publications and at Foundation Board meetings.
Levels of corporate giving are:
Platinum Level: $5,000
Gold Level: $3,000
Silver Level: $2,000
Bronze Level: $1,000
Copper Level: $ 500
---
Ways to donate to the Foundation
Please consider making a legacy gift to the Foundation through a will, life insurance or other option.
By credit card
Click here to donate today!
Through Amazon Smile
If you are a frequent purchaser through Amazon, please consider using Amazon Smile to donate to the NDFB Foundation. When you shop online at smile.amazon.com, .5% of your eligible purchases can be directed to the charity or foundation of your choice. Simply click the down arrow on the "Supporting" tab and type in North Dakota Farm Bureau Foundation.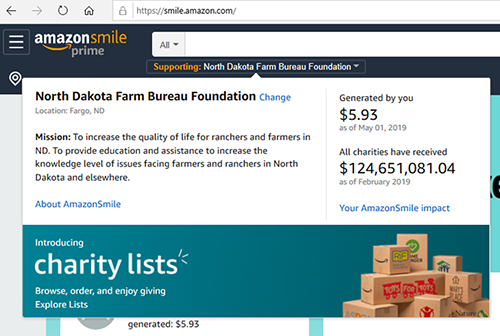 Through Giving Hearts Day
The NDFB Foundation has a page on Giving Hearts Day.

By mail
Mail your check to:
NDFB Foundation
PO Box 2064
Fargo, ND 58107
---
The NDFB Foundation was established by the NDFB Board of Directors in 2002. Gifts to the Foundation are tax deducitble under section 501(c)(3) of the IRS code.
Directors of the Foundation are members of the NDFB Board of Directors. NDFB is a voluntary, general agriculture organization.