Meet the Young Farmers & Ranchers Committee
The YF&R program provides opportunities for young men and women to participate in activities designed to develop agricultural leadership and improve their farm operations. Many county Farm Bureaus also have active YF&R groups.
To learn more about YF&R, contact NDFB Director of Leadership Development, Joey Myers. Visit the YF&R page on Facebook.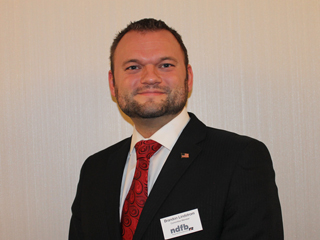 District 2 and YF&R Committee chair
Brandon Lindstrom
West Fargo, N.D.
Brandon farms with his father and brother, raising corn and soybeans near Casselton. Brandon is on the Cass County Farm Bureau board and is active in the Republican party. Brandon says he became active in NDFB because he wants to be "part of an organization whose principles I agree with." He also wants to help shape the future of agriculture.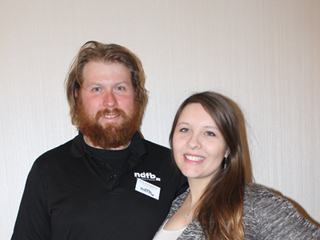 District 1
Evan Montgomery
Evan And Emily Montgomery live on the family farm near Manvel, with their daughter Lillian and their dogs Ernie and Shona. They farm primarily wheat, soybeans, and corn in Grand Forks County. Additionally, they help Evan's family maintain a small beef cattle herd and an active horse ranch. Emily is the executive director of the Empire Arts Center, a historic theater in downtown Grand Forks. Evan and Emily both spend their free time being involved as performers, volunteers, and audience members in the local Grand Forks arts scene.
District 3 - vacant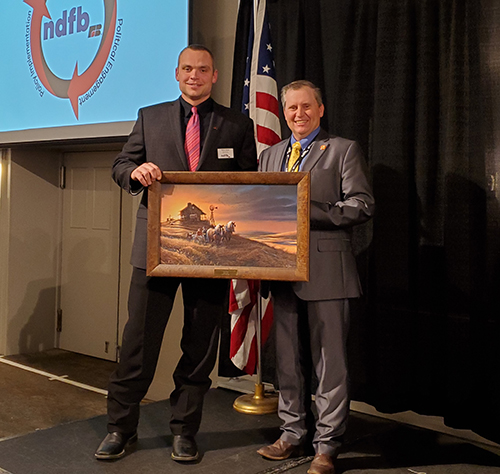 District 4
Steve Walsh
Three children
Mylo, N.D.
Steve and his wife, Sara, raise soybeans, wheat, canola and run a cow/calf operation. Steve is on the Valle Lutheran Church Council. He says he became active in NDFB to "do my part in helping to promote and protect ag."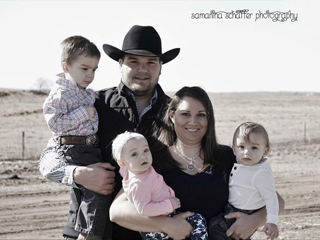 District 5
Chris and Kim Dockter
Three children
Zeeland, N.D.
Chris and Kim live on a ranch outside of Zeeland where they run cow/calf pairs and background their own calves.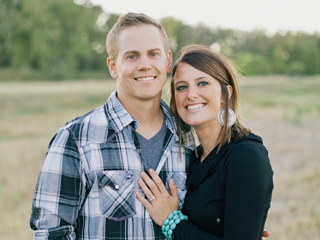 District 6 representatives
Joe and Kellie Sheldon
Washburn, N.D.
Joe and Kellie raise a variety of crops on the family farm. Kellie works at a chiropractic office and Joe also sells crop insurance with his dad. They have one child.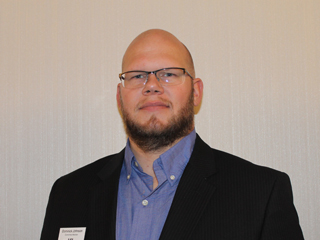 District 7
Dominick Johnson
Four children
Bismarck, N.D.
Dominick and his wife, Denise, have experience in corn, sunflowers, wheat, canola, soybeans and peas. Dominick is a member of the Burleigh County FB board of directors, and serves as vice president.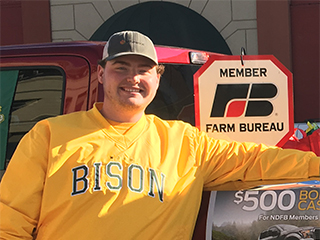 District 8
Travis Binde
Fortuna, N.D.
Travis and his parents, Arley and Shirley Binde have small grains and livestock on their farm. Travis is a member of NDSU Collegiate Farm Bureau, Saddle and Sirloin and Collegiate FFA. He says NDFB is "a great organization to be a part of and to share common beliefs."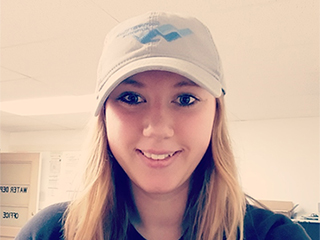 District 9
Jessica Dukart
Jessica grew up in the Belfield area on a farm and ranch where her two uncles and I take part in raising a variety of crops and running a cow/calf operation. She received an ag degree from Dickinson State Univeristy and works at Southwest Water Authority in Dickinson Jessica says she first became involved with NDFB as a DSU collegiate member and, "I am more than grateful for the opportunity to participate on the YF&R board as NDFB is a great organization and opportunity for growth of young farmers and ranchers."