NDFB Week 2019
Advocating for agriculture is one way NDFB helps secure food choices for all families. From the slice of pizza you have after celebrating a big win at the high school basketball game or the glass of milk to start your day, agriculture plays a role. To celebrate NDFB Week, March 10-16, 2019, NDFB asked fourth and fifth graders what their table looks like at meal time and where that food comes from. Like always, the kids didn't disappoint.
The fourth-grade winner is Braelyn Connot of Rugby, N.D. Connot gave a great example of a breakfast meal, including bacon from a pig, toast from wheat, eggs from chickens and topped it off with some lemonade.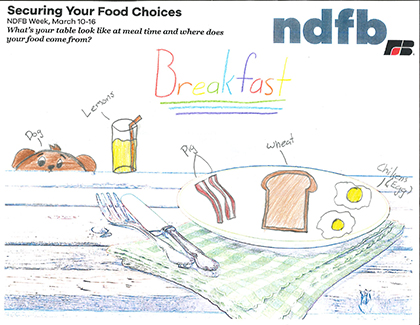 The fifth-grade winner is Jada Ottmar from Mott, N.D. Ottmar drew a delicious looking piece of pizza, including pepperoni made of a mixture of beef and pork and cheese from a dairy cow. The crust is made from wheat and the olives come from olive trees. Apple juice was Ottmar's choice of drink, made from apples.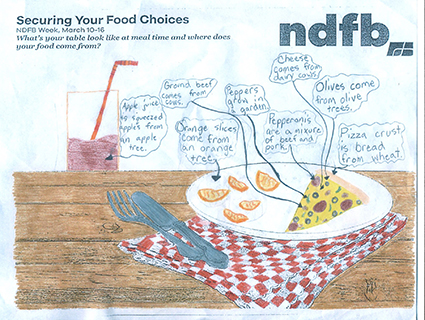 "Children are so creative, and it's always exciting to see what they come up with when you let their imaginations run," said Lisa Hauf, NDFB Director of Public Relations.
One of the entries was of a steak, and the child said the steak was from a cow that ate creep feed, hay, oats and silage. He said he would have put corn and potatoes on his plate but there wasn't enough room. He sounds like a true rancher.
Each winner will receive $50.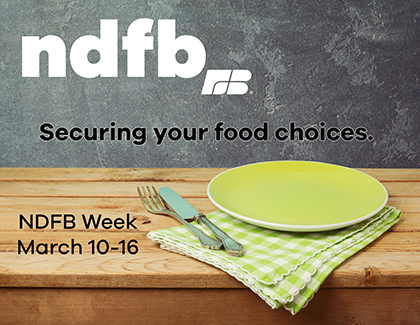 County Farm Bureas across the state engaged in a variety of events for NDFB Week. Here is a rundown of just some of those activities:
Barnes County hosted a Free Meat Monday on March 11th at the Wimbledon Community Grocery & Café from 11am - 2 pm. More than 70 people were served roast beef and mashed potatoes.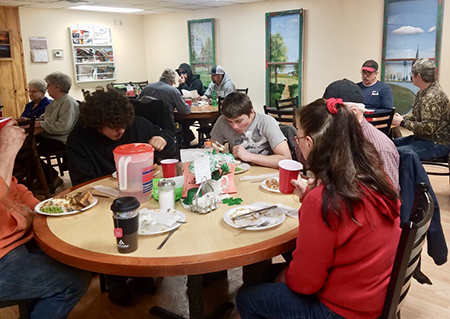 Bottineau County gave away five $25 gift cards for Jason's Super Foods and holding an ag trivia contest on Sunny 101.9, with the first person answering the trivia questions correctly receiving a gift card.
Cass County is contributing to the Ag Collective for their NDSU Farm Bureau week. Also, the county met with the Collegiate Farm Bureau.
Foster County sponsored a local FFA event and movei night at the youth center.
Grand Forks County sponsored local county schools to visit local farms.
Kidder County held a drawing contest for the 4th and 5th grade students in the county. An ag trivia message will be on the community electronic billboard in Steele each day of the week.
LaMoure County gave away $50 of groceries at each local grocery store and meat locker in Kulm, Edgeley and LaMoure. The county also ran an ad and article in each local paper highlighting NDFB Week.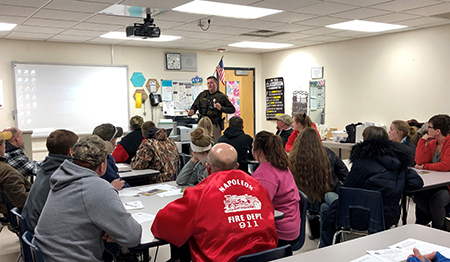 Logan County held a Route 1000 class in Napoleon. Pictured is State Trooper Paul Sova talkng to the group.
McIntosh County hosted a Special Assignment Pizza day in Wishek on Monday March 11. For photo highlights click here.
McLean County placed newspaper and radio ads announcing NDFB Week.
Morton County: Due to the recent snowstorm, Morton County Farm Bureau had to cancel its Ag Day scheduled for March 12.
Pembina County sponsored a school bus to a Special Assignment Pizza event and donated to the local recreation center.
Pierce County sponsored a Special Assignment Pizza event on March 14.
Richland County gave $1500 to the Richland Wilkin Food Pantry, that will be matched dollar for dollar all donations in March.
Rolette County sponsored a Special Assignment Pizza event.
Sargent County is holding a 26th District Legislative Update with Sen. Dotzenrod, Rep. Kathy Skroch and Rep. Sebastian Ertelt on Saturday, March 16 at the Forman Senior Center, 9:00am. The county also is sponsoring Free Meat Monday in county grocery stores, and sponsoring $100 for the Ag day at the Gwinner Highschool on March 14th.
Sheridan County placed newspaper and radio ads announcing NDFB Week.
Stutsman County sponsored an ag day baby basket for first baby born that day at Jamestown hospital.
Traill County sponsored a tour of Agvise
Walsh County sponsored two legislative forums.
Williams County sponsored daily ag trivia on the radio with gift card giveaways.
For more information, contact Lisa Hauf or Dawn Smith-Pfeifer